We like to welcome you to a grate choice of traveling to your paradise!
It is now time to come and visit some of the most stunning islands of Indonesia. The three Gili islands just north of Lombok; Gili Trawangan, Gili Meno and Gili Air. Gili Trawanga is the most famous and will accommodate any traveller even you are a backpacker, single traveller, couple or family. It has got it all. Though the other Gili islands are also very nice Trawangan wins the price! Read more about Gili Trawangan, Gili Meno and Gili Air. Also have a look what Lombok island has got to offer. Book with us for the best prices. Get a deal when you book your open return ticket with us. It is all a win win!
1. Select date of departure
2. Select time slot
1. Pay a small deposit to secure your spot
2. Receive a confirmaion email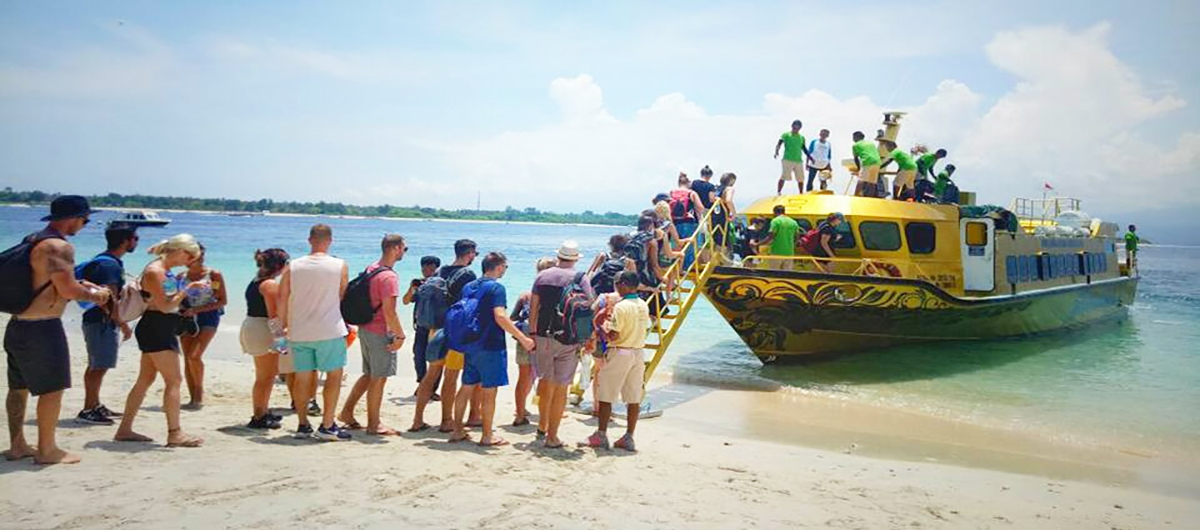 ---
INFORMATION
Pick up Area / Meeting point
Please make sure that you are ready with your bags at the given time below.
PICK UP SERVICE FEES
50.000IDR /person/way for Sanur, Kuta, Legian, Seminyak, Jimbaran central area, Candidasa and Central Ubud.
100.000IDR /person/way for Uluwatu, Padang Padang, Nusa Dua and Changgu pererenan
The pick up charges will be paid in cash to the fast boat office direct upon check in.


Pick up times for 9.30AM departure from Padang bai to Gili islands & Lombok:
Kuta, Seminyak, Legian, Canggu central, Jimbaran Kedonganan, Sanur, Central Ubud and Padang Bai 6.30-7.00AM
Pick up times for 13.30AM departure from Padang bai to Gili islands & Lombok:
Kuta, Seminyak, Legian, Canggu central, Jimbaran Kedonganan and Padang Bai 10:00-10:30AM
Central Ubud: 10:30-11:00AM
Sanur: 10:30-11:00AM
Uluwatu: 9:00-9:30AM
Please note if your area has got an extra charge. If it has then it will be charged from the fast boat company directly upon check in.

We wish you a good trip and a fantastic stay on the Gili Islands!

Kindest Regards
Gili Boat Ticket Team